Lodge Tents
Air Lodge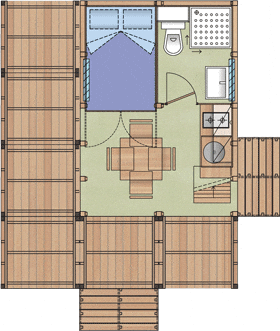 Model 2 Double-beds – 4 people, 30 square metres + 12 square metres terrace
A complete immersion in nature, with a privileged place.
Romantic and charming tree house that we all have always dreamed of!
AIRLODGE is a unique two-storey tent, thanks to its earthy colors, created to make you feel in nature, thanks to its robust and delicate materials.
The ground floor consists of a living area with table, chairs, 2-plate kitchenette, sink and refrigerator.
Two hinged doors hide the first double bed that looks like a small alcove and in the back of the tent there is the space for a bathroom complete with sink, toilet and shower.
A small wooden staircase leads to the first floor where there is the second large and bright double bedroom.
The roof is equipped with large blackout windows and when the front walls of the room are completely open, a small balcony allows you to look out and enjoy the view of everything that surrounds the tent.
Complete comfort a beautiful wooden terrace equipped with table, chairs and 2 sun loungers.